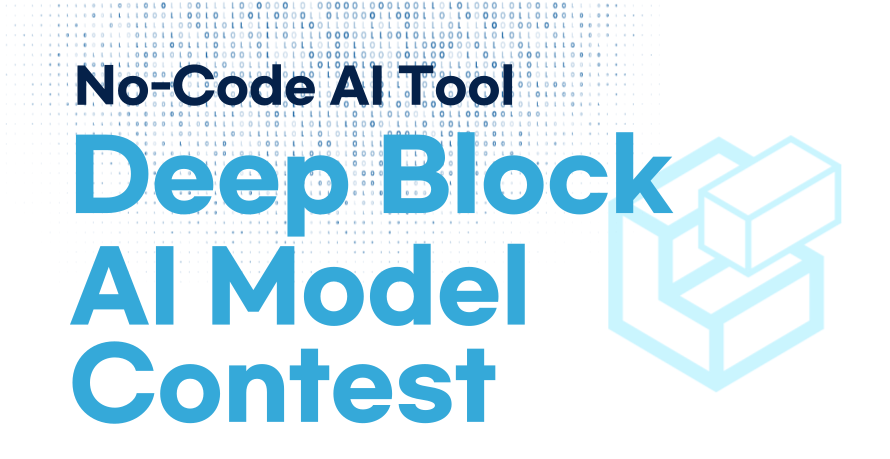 Deep Block AI Model Contest
Overview
Deep Block is an AI model development platform that allows you to create various AI models without coding. Deep Block allows users to build their own object detection, object segmentation, and face detection AI models without coding.
Deep Block was developed to create a world where even non-tech experts who do not know AI can easily use AI technology to automate data analysis.
Currently, we provide tools to build AI models mainly related to object recognition, and even those who do not have knowledge of AI or programming can build image recognition models using Deep Block.
Check out Deep Block's official YouTube channel and blog to see various use cases of Deep Block.
In this competition, each team will create and share their own unique AI project in Deep Block.
The winners of each category will be selected after evaluation by the team members of Omnis Labs company, the company that developed Deep Block, and invited judges.
We hope to see a lot of creative and unique ideas!
Results
Committee Award - leb****@***.**.kr

Playground Award - asa*****@*****.com
Idea Award 1 - dee**********@*****.com
Idea Award 2 - ban********@*****.com
Contest Participation
This competition is not a competition that awards teams based on the performance of AI models like Kaggle, so please feel free to participate even if you don't know AI and coding.
1. You can suggest AI model that does not exist in Deep Block at the moment.
2. You can use Deep Block to build and share your own AI model.
3. For those who want to implement a new software by utilizing AI projects made with Deep Block, we can also provide a open API for the teams.
Who Can Participate?
Individual or Team of 2 or more members (every member should be 18 or older)
Awards
Committee Award (1 team): 3,000,000 KRW (approx. $2400)


The Committee Award will be given to the team with the project that received the most votes by the judges.




There are no specific criteria for voting. Any of these could get many votes: fun ideas, creative ideas, great business ideas, useful ideas in real life, etc.

Playground Award (1 team): 1,000,000 KRW (approx. $810)


This award will be given to the team with the AI project that was evaluated as the most interesting and fun by the judges.




Create and share an interesting AI project using the model development tools and applications in Deep Block!

Idea Award (2 teams): 1,000,000 KRW (approx. $810)


1. Please share a case in which Deep Block can be used to solve a problem in a certain field.




You don't have to build a fully functioning AI model.

If the model is not currently supported by Deep Block, you can send a proposal through an email.




2. Even if it's not a business-friendly idea, if you could show us a unique use case of Deep Block p

lease share with us.
Example
Ship Detection AI in Satellite Images
Switch detection AI on a factory machine
Development of AI for LED detection in factories and software for classifying power consumption according to type of LED
Product detection AI on conveyor belt
AI to detect the number of trees in drone pictures
Fruits Flower Detection AI
AI to count cars in aerial photographs
Development of AI model for segmenting hair area with Deep Block and development of software for determining hair loss using API
My own Style Transfer exhibition (https://blog.deepblock.net/ko/style-transfer-tutorial-0)
Improve research efficiency through cell detection AI
Register Period
June 8, 2022 - July 30, 2022
Competition Period
June 15, 2022 - August 10, 2022
Results Released
August 11, 2022
How to Register
1. Fill out the below form and submit (For teams, only the team representative should submit)
2. We will contact each team that submitted the form. Each team will be granted access to app.deepblock.net during the contest period.
3. Build and share your Project in the Project Store in app.deepblock.net
How to Use Deep Block (Tutorial Videos)
https://youtube.com/playlist?list=PLHENimiXI7OGyRAFuuk-9vBxPxpaptNoM
Inquiries
If you have any questions regarding the contest, please contact deepblock.net/contact
Warning
Everything contained in the project, including the model's training and inference data of the project submitted to the contest, will be shared with all app.deepblock.net users.

Please be advised that ownership of the competition projects will be transferred to Deep Block's Project Store and Omnis Labs Company.




However, if you do not want to disclose your training data due to data security reasons, please contact us.


We will hide and protect your training data in our project store.

You must not upload data that is owned by others and is not permitted to be commercially disclosed.

If the terms and conditions are violated, the uploaded project may be deleted without any notice.

Posts that pose direct and obvious physical threats to others, such as encouraging self-harm or suicide, private information about others, continuous bullying or harassment of others, suggesting, mediating, or forcing prostitution, or posing a direct and serious threat to public safety may be restricted.




Posts that are prohibited by related laws or that are subject to criminal punishment, such as teaching or aiding, promoting, advertising, or selling goods or services prohibited by related laws, infringing on other people's intellectual property rights, insults, privacy, or defamation may be restricted.




Posts that can cause sexual shame or distorted sexual consciousness, such as provocative and explicit sexual behavior, violent and provocative content that can cause cruelty or disgust to others, deceiving others such as impersonating or claiming false information, and repeated use of excessive swear words or slang may be restricted.