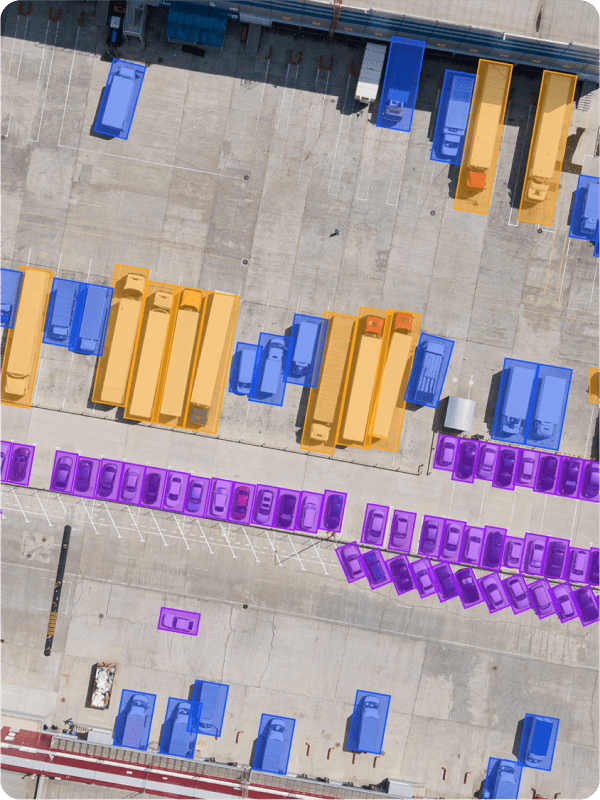 ANNOTATE
Data labeling has never been so easy.
Data labeling is the foundational block of a good AI model. Deep Block gives you access to an intuitive annotating tool that will get you started in a few minutes.

Manual
All you need is a mouse to manually draw bounding boxes or polygons to visually segment the objects that your want your AI model to detect.

Auto AI
Let the Deep Block on board AI estimate the next objects to annotate based on your current trajectory.

Library
You might be in luck! Check out our project library to see if there is not already a similar data set available just for you!

Express
Get the Deep Block team to work on your AI model directly and benefit from the experience and speed of our in-house experts.
APPLICATIONS
Let the AI do the grunt work.
Get the best out-of-the-box training blocks for your brand-new AI. Deep Block can analyze any type of image and provide you with results in a few minutes.
COLLABORATE
Synergize! Get work done together faster.
Deep Block lets an unlimited number of users label the same pictures at the same time. Synchronize on important projects and avoid duplicated work.
TRAIN
AI Training,
at the push of a button.
We are not Blockchain traders but Deep Block trainers, and we make sure that our learning curve always goes up! Just push the Train button and let Deep Block do the rest.
PREDICT
Your new AI is already here.
After training, your new AI model will be able to give your result in a few minutes. You can now use it directly into Deep Block, export it, or integrate it into your application using our API.
THE TECH
The world's fastest imagery analysis solution.
Deep Block's patented deep learning technology can process large file sizes instantly. This makes for a powerful solution to analyze satellite, drone, and aerial imagery.

10 GP pixels
Max file resolution
or 100,000 x 100,000 pixels images.

15 GB
Max file size
vs. 1 GB with our competitors.

15GB/sec.
Processing
speed.



0.9 AP
Highly accurate prediction
when detecting objects.

0.9 Recall
Highly reliable detection
with minimum false negatives.
CORE FEATURES
Premium features,
for everyone.
Our core capabilities are available with all our plans. Just pick and choose the right price for you based on your usage.
PRICING
It sounds like a plan.
Our core capabilities are available with all our plans. Just pick and choose the right price for you based on your usage.
What is a GPU hour and how much do I need?
A GPU hour is the sum of the duration of each individual GPU that's been used for deep learning. Each time you train your AI or process your raw files to extract predictions from your AI model, Deep Block calculates the time spent processing your information and displays it in your billing tab. To estimate the number of GPU hours you would need per month, feel free to contact sales and get an estimate.
What are the features included in each plan?
All our core features are included with our Starter, Pro, and Expert plans. Only our Enterprise features are available on demand. Feel free to contact sales for any additional information.
Can I try Deep Block for free?
Yes, with the Starter Plan, you can use Deep Block for free, no credit card required.
Can I cancel my subscription when I want?
Yes, you can cancel your subscription anytime from your settings page. When you cancel, you will lose access to the Deep Block platform at the end of your billing cycle. Make sure you export all your data sets before the cancellation goes into effect.
CONTACT US
Interested?
Let's get in touch!
Whether it is to get a demo of our Deep Block Platform, inquire about our learning courses, join our latest Bootcamp, or explore custom solutions with us, we will be happy to help!
BLOG
The Deep Dive.
The Deep Dive is Deep Block's beloved Blog. It regroups all our successes and failures. It is an honest take on the challenges of a Computer Vision startup, an open opinion column for our experts, and the place to get our latest news.