URBAN PLANNING & SMART CITIES
Transforming cities through advanced geospatial analysis.
Urban planners face a significant challenge in extracting meaningful insights from vast geospatial data to make informed decisions.
Problem, traditional methods of data analysis and manual interpretation are time-consuming and limited in effectiveness, hindering efficient addressal of pressing challenges like infrastructure management, environmental sustainability, and disaster preparedness.
Deep Block, an AI-powered geospatial analysis platform, is specifically designed to tackle these challenges. By harnessing cutting-edge computer vision technology, Deep Block empowers urban planners and decision-makers to focus on detailed analysis and strategic decision-making while automating data processing and interpretation tasks.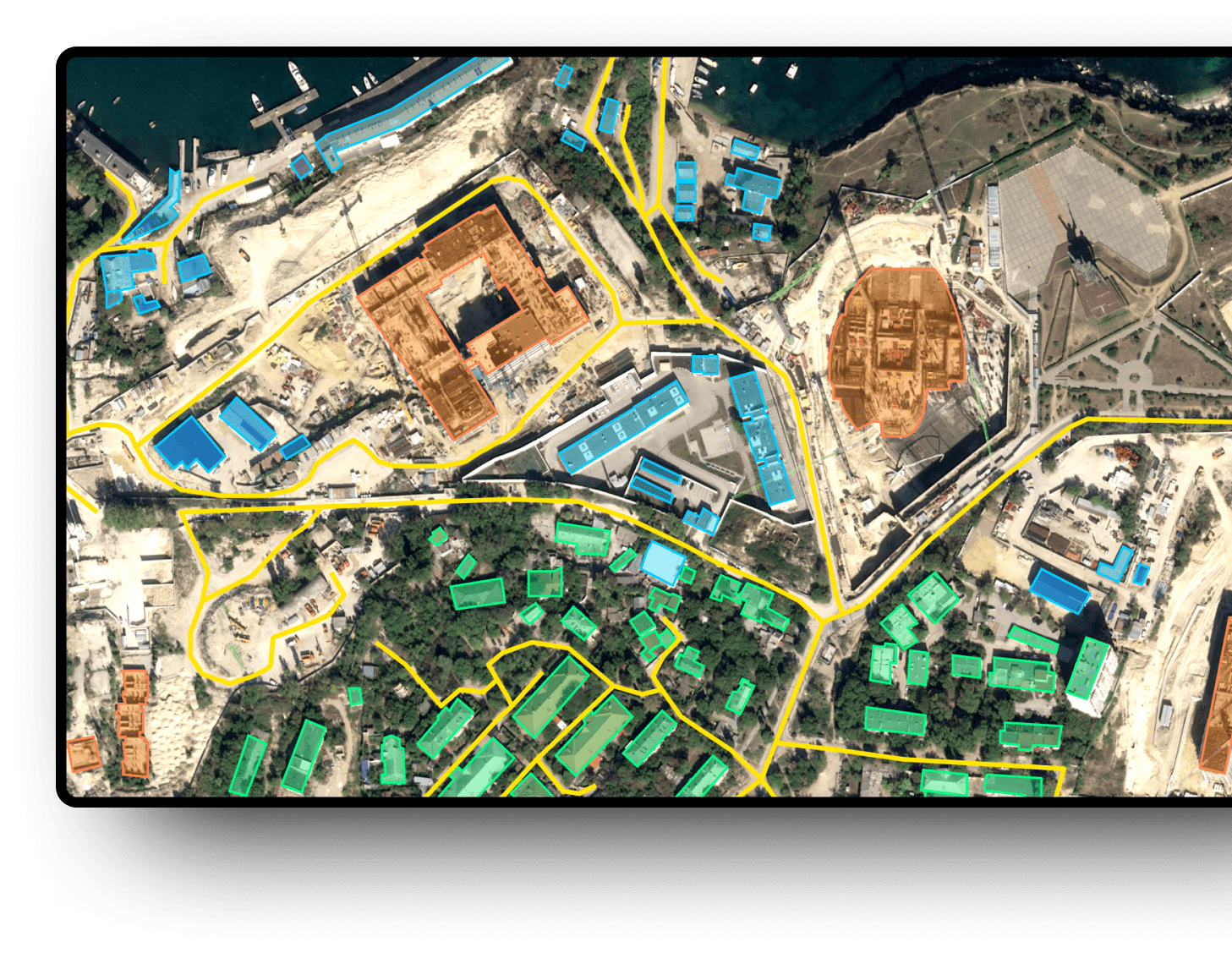 SOLUTION
Unearthing Urban Intelligence.
Deep Block Platform revolutionizes urban planning and decision-making processes by leveraging the power of AI and machine learning. With Deep Block, anyone can harness the wealth of geospatial information through repeatable and automated processes, enabling efficient analysis and insights. The platform excels in processing high-resolution imagery with remarkable speed and scalability.


Satellite Imagery
Sattelite imagery can offer valuable observations to understand large city landscapes such as building, infrastructure, and population density and distribution across cities.


Aerial Photography
Aerial imagery, obtained from planes or helicopters, complements satellite data by offering consistent results and minimizing atmospheric artifacts. Although it covers a smaller area, aerial photography delivers high-quality and reliable information for urban planning applications.


Drone Imagery
Drones have emerged as a valuable asset in urban planning, providing targeted studies and reconnaissance. While their range is relatively limited compared to planes, drones offer flexibility and precision in capturing imagery for specific areas of interest.


CCTV Footage
The power of AI extends to the analysis of security footage and other smart systems. This enables a more consistent detection of potential threats, surpassing the capabilities of human operators to enhance surveillance operations and threat identification.
USE CASES
Unlocking data blind spots.
Deep Block's advanced computer vision algorithms revolutionize the field of urban planning and smart cities by harnessing the power of geospatial data. Our platform empowers urban planners to efficiently process and analyze large volumes of data, enabling them to make informed decisions and drive sustainable urban development.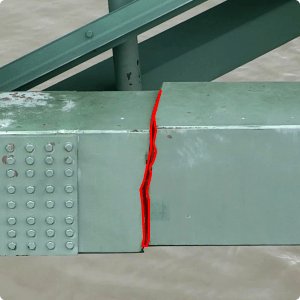 Urban Infrastructure Monitoring
Monitor and analyze the condition of roads, bridges, buildings, and other critical infrastructure elements. Detect and classify various objects, identify structural issues, and provide valuable insights for maintenance planning and resource allocation.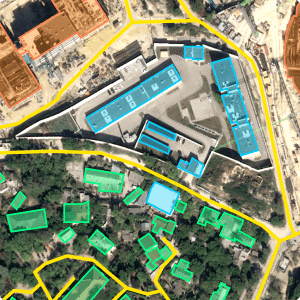 Land Use and Zoning Analysis
Identify and classify different land use categories, such as residential, commercial, industrial, and recreational areas through time. This information aids in effective urban development planning, optimizing land utilization, and detecting illegal constructions.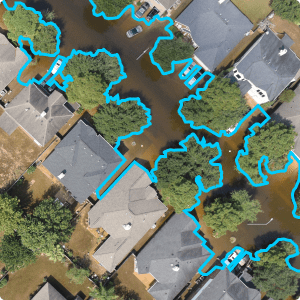 Disaster Preparedness and Response
Analyze real-time data from various sources, including drone imagery and CCTV footage, to aid in emergency response planning and post-disaster damage assessment. This enables proactive measures, efficient resource allocation, and effective recovery strategies for cities and their residents.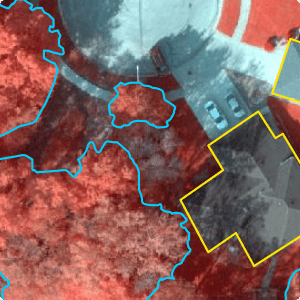 Environmental Conservation
Detect and track changes in vegetation, identify potential areas of environmental concern, and support initiatives related to urban greening and sustainable development. These insights contribute to the creation of environmentally friendly and livable cities.
APPLICATIONS
Use all the arsenal at your disposal.
Deep Block supports a growing range of applications and lets you train your AI on multiple data sources.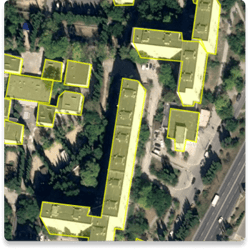 Image Segmentation

Assign pixel-level labels to different regions within an image. Applied to geospatial data, it can help identify buildings, land-use patterns, vegetation cover, or even changes over time. This level of granularity enables cities to monitor and analyze spatial dynamics, supporting environmental assessments, infrastructure planning, and urban growth modeling.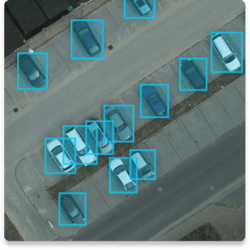 Object Detection
Recognize objects and precisely locate them within the geospatial context. By detecting and delineating individual objects, such as vehicles, trees, or infrastructure elements, cities can gain insights into spatial distribution patterns and make informed decisions accordingly.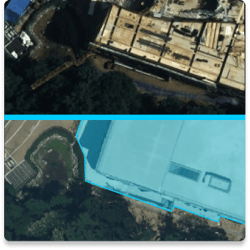 Change Detection
Discover and identify discrepancies in ground objects using two (bi-temporal) or more (multi-temporal) images taken by the same type of sensor, at the same geographical location. It can indicate the addition or removal of buildings which is one of the main uses for urban and public space management, cadastral map update, and illegal constructions detection.
THE TECH
The world's fastest imagery analysis solution.
Deep Block's patented deep learning technology can process large file sizes instantly. This makes for a powerful solution to analyze satellite, drone, and aerial imagery.

10 GP pixels
Max file resolution
or 100,000 x 100,000 pixels images.

15 GB
Max file size
vs. 1 GB with our competitors.

15GB/sec.
Processing
speed.



0.9 AP
Highly accurate prediction
when detecting objects.

0.9 Recall
Highly reliable detection
with minimum false negatives.
CONTACT US
Interested? Let's get in touch!
Whether it is to get a demo of our Deep Block Platform, inquire about our learning courses, join our latest Bootcamp or explore custom solutions with us, we will be happy to help!
BLOG
The Deep Dive.
The Deep Dive is Deep Block's beloved Blog. It regroups all our successes and failures. It is an honest take on the challenges of a Computer Vision startup, an open opinion column for our experts, and the place to get our latest news.